Event Information

Date

April 25, 2020

Time

9:00am until 11:00am

Cost

Adults 12 & up $10.00, Children 11 and under $5

Location

Edgewood Senior Center in Freedom Park
550 Freedom Park Dr.
Edgewood, Kentucky 41017

Directions

RSVP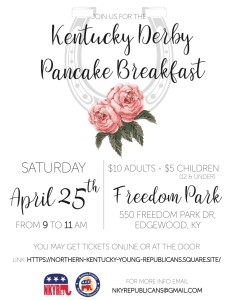 Join us for our 6th Annual Pancake Breakfast co-hosted by the Kenton County Republican Women's Club and the Northern Kentucky Young Republicans on April 25th!    It's Kentucky Derby themed! 🐎
Adults $10 Children $5 (under 12).   Tickets can be purchased by clicking here and scrolling down to find pancakes!
The event is April 25th from 9am-11am at the Edgewood Senior Center, 550 Freedom Park Dr, Edgewood, Kentucky 41017
Sponsorship opportunities are still available! Contact Sherry at president@kcrwc.org or Casmir for sponsorship inquiries.
We hope to see you at our event!